Global real estate and investment trust (REIT) markets have continued to expand and now surpass a total market capitalization of approximately US$1.7t. The number of countries now offering REITs as an investment vehicle has almost doubled in the last 10 years to 37, with 7 new country entrants in the past 4 years and 2 more on the cusp of new REIT legislation. It's clear that as these regimes have evolved, the use of the REIT vehicle has become better understood and more widely accepted around the world as an investor-friendly, tax-efficient vehicle for real estate investment.
Global capital raise and initial public offering (IPO) activity, which is a good indicator of the health of the sector, has trended up and remains remarkably resilient, despite periods of public market pricing dislocation that has somewhat subdued capital-raising activity for certain sectors. Cross-border transaction activity remains elevated as foreign investors continue to provide joint venture capital alongside established REITs; meanwhile, some foreign sponsors are now forming REITs to invest in local country jurisdictions, which before now has been surprisingly limited in scope.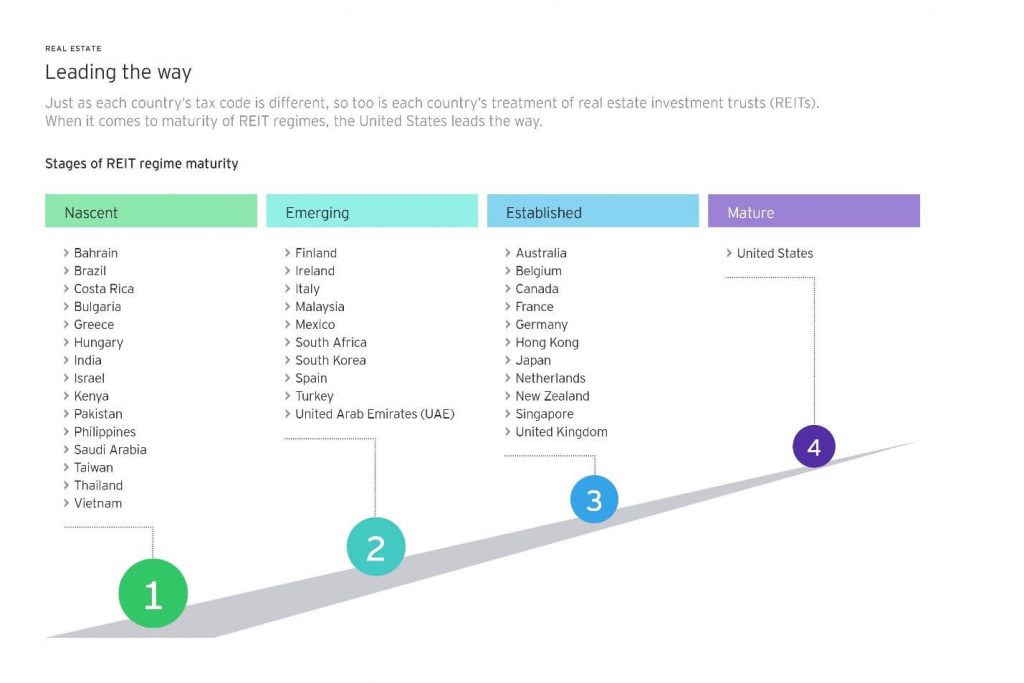 Tax legislation continues to evolve across all REIT markets and particularly in less- developed jurisdictions, where a broad REIT framework exists but in some countries has not proven to be favorable enough to see companies convert or execute an IPO. REIT industry groups from around the world have responded by actively exploring ways to refine existing legislation to make it more attractive and provide the type of tax incentives to further promote the use of the REIT structure. In the US, the REIT industry has a foundation of 50-plus years of tax law that works efficiently, but this may be disrupted by new, broader tax legislation that has been proposed. It's evident that REITs are operating in a very dynamic environment that is evolving rapidly as disruptive technology, changing demographics, developing legislation and governance, and globalization continue to accelerate the pace of change.